In this Daily: Cuatro Calle La Ronda is Open (And a Great Gift for Día de la Madre)
Cuatro Calle La Ronda brings a casual, quality dining option to town, offering a take on breakfast, lunch, and snacks that combines quick, neighborly service with local ingredients for bites that are nourishing, full of flavor, and easy.
Located just off of Calle La Ronda at Santarena's passthrough to Plaza Danta, Cuatro Calle La Ronda is a versatile space that has options for grab-and-go, fresh prepared food for a café style meal on the terrace, as well as takeaway homemade items. For breakfast, a selection of sweet and savory baked goods, breads and toasts, fruits and yogurts, as well as a variety of coffees, juices, and teas fill out the menu. For lunch or late afternoon snacks, the shop offers cold and hot sandwiches, empanadas, salads rich in diverse fruits and proteins, as well as daily soups, kombucha, agua de pipa, and homemade sodas. Cuatro Calle La Ronda also has a signature selection of homemade items like jams, pickles, ferments, and preserves to take home.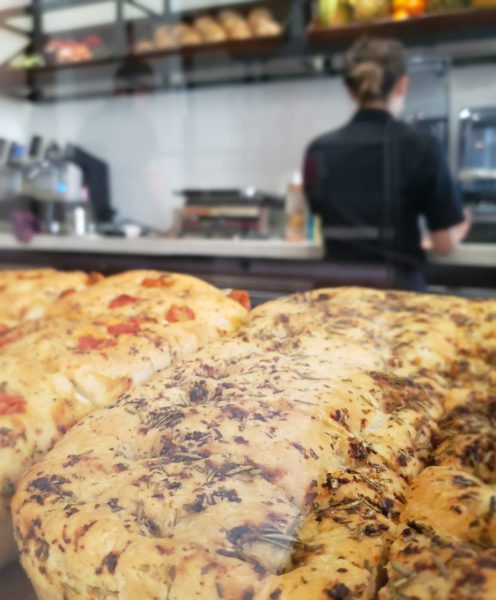 Cuatro Calle La Ronda | A Bakery for Everyday (Especially Día de la Madre)
Cuatro Calle La Ronda's location in the passthrough between Plaza Danta and Calle La Ronda is a unique feature of the bakery, one that influences its cuisine as well as its atmosphere. Naturally integrated into the walking path, the bakery offers a subtle sociability, as people moving by can browse the menu and share a kind word. Intrinsically, a place integrated into a walking path will offer quick options to grab and go, but the addition of the nearby terrace is an alluring option that invites travelers to sit down and stay for a moment to enjoy a snack or a meal. In a world that moves fast, this invitation to slow down is a welcome one, especially in a natural shortcut.
The light, quick, and flavorful foods at Cuatro Calle La Ronda provide a fitting addition to town's cuisine, with versatile choices depending on which way guests engage with the bakery. For just passing by, a morning cup of tea and a coconut chia pudding lift the mood and fuel both body and mind to start the day. Lunchtime grab-and-go, with a tray of hot empanadas, a selection of favorite sandwiches, and a couple of salads to share, make for an easy meal or an impromptu family picnic on the beach.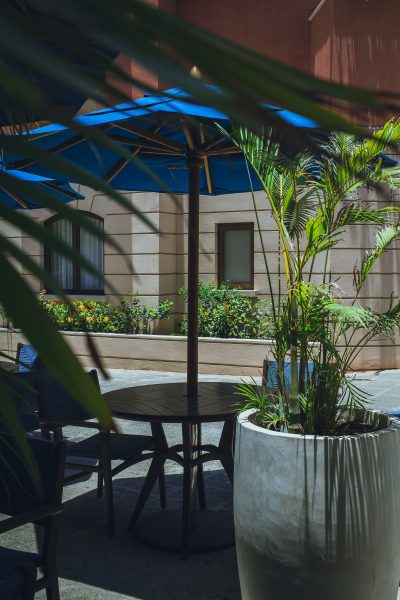 Meanwhile, settling in for a meal offers a steady neighborhood atmosphere, with the shaded streetside terrace offers ample reason to sit, chat with a friend, and order items to share and savor.
Cuatro Calle La Ronda also fits particularly well into Día de la Madre, tomorrow's national holiday in Costa Rica celebrating mothers. Thanks to their hours, which run 6am to 3pm, the bakery can provide everything needed to wake early and surprise mom with a breakfast in bed.
A colorful new option for tomorrow and the many days to follow. Bienvenidos a Cuatro Calle La Ronda.